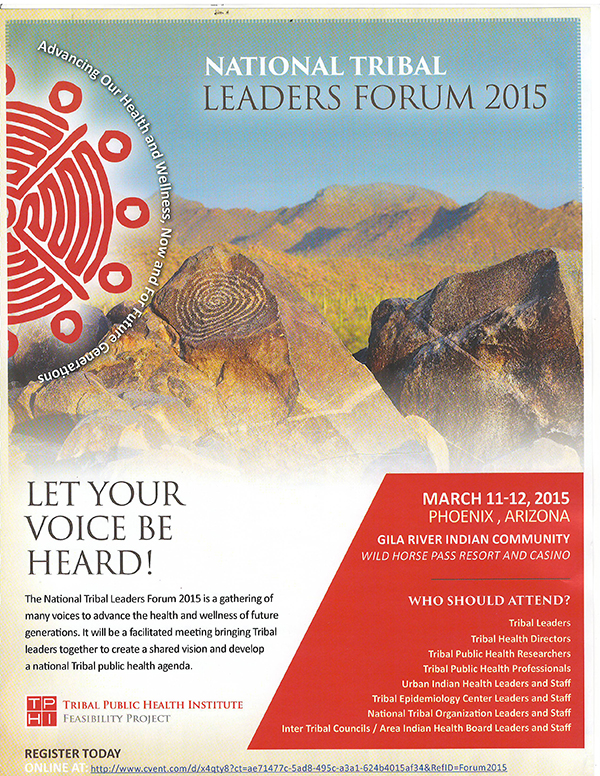 The California Valley Miwok Tribe (CVMT) received an invitation and a flyer from Redstar Innovations (Strategies for Stronger Communities). Correspondence addressed to the Chairperson invited CVMT to attend the upcoming National Tribal Leaders Forum – "Advancing Our Health and Wellness, Now and For Future Generations".
What:
National Tribal Leaders Forum 2015 – A gathering of many voices to advance the health and wellness of future generations. It will be a facilitated meeting bringing Tribal leaders together to create a shared vision and develop a national Tribal public health agenda. March 11-12, 2015 in Phoenix, Arizona.
Where:
Gila River Indian Community – Wild Horse Pass Resort and Casino.
Who Should Attend:
Tribal Leaders, Tribal Health Directors, Tribal Public Health Researchers, Tribal Public Health Professionals, Urban Indian Health Leaders and Staff, Tribal Epidemiology Center Leaders and Staff, National Tribal Organization Leaders and Staff, and Tribal Councils / Area Indian Health Board Leaders and Staff.
The National Leaders is a gathering of many voices; providing a unique opportunity for Tribal Leaders from across the nation to discuss and prioritize pressing public health issues, take on new perspectives, and provide strategic recommendations for a Tribal public health agenda. The forum will include interactive leader sessions, facilitated discussions, open comment, and a social gathering. This is a Tribally-driven process envisioning a future where all Native people live long and health lives for generations to come!
For more information visit the website at https://redstarintl.org/