Below please see various stories and events of interest concerning the Native American community.
August 10, 2023
---
Thank you for subscribing to our newsletter, THE WEEKLY.
The best way to enjoy the newsletter is by clicking the 'Download PDF' link below!
---
Top Stories
By Amelia Schafer, ICT + Rapid City Journal
The 2023 annual Medicine Wheel ride brings awareness to missing and murdered Indigenous people … continue reading
By Dalton Walker
Fencing has yet to catch on in Indigenous communities. Connor Poleyumptewa competes across the country in the sport … continue reading
By Deusdedit Ruhangariyo
Coverage around the world on Indigenous issues for the week ending August 6, 2023 … continue reading
ICT Newscast with Aliyah Chavez
A look at Indigenous athletics. From a new and accessible sport exciting Native elders to a soccer star who is the focus of a documentary. A Lakota doctor's climb to the top of Mount Everest is for a cause … continue reading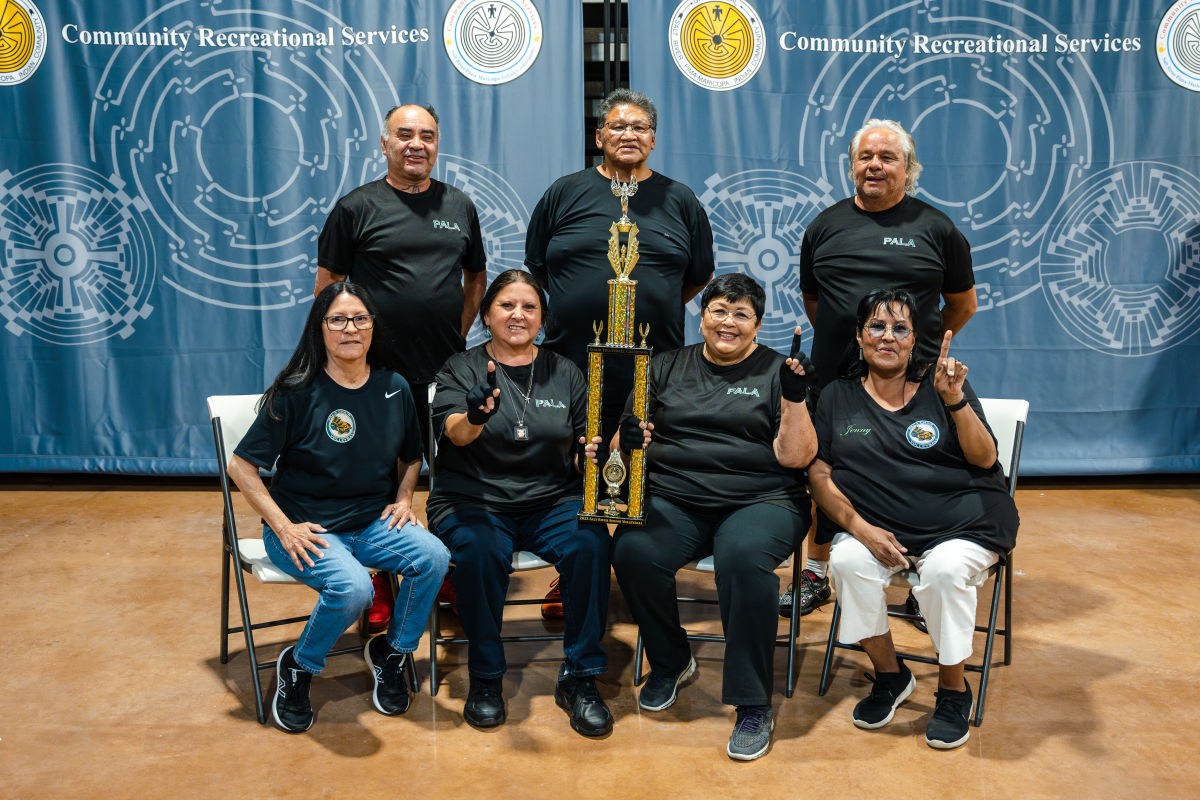 Also included additionally and with great sadness is the passing of one in the Native American community who aspired and inspired with great creativity and influence not in regards to just us in the Native American community but who's influence was felt around the world.
California Valley Miwok joins others in mourning the passing of Robbie Robertson……
By Miles Morrisseau
Robertson was from the Six Nations of the Grand River in Canada and a fixture in the rock industry for decades, playing alongside other rock legends … continue reading
National American Indian Housing Council
Very important subject matter to be discussed at this symposium affects everyone in the Native American community, a family member or someone we know.
Member: $350
Non-member: $450
Attorney: $550

Join Us in Las Vegas!

Register for the Legal Symposium today!

Use the agenda-at-a-glance to make your travel arrangements to Las Vegas.

Who Should Attend?

Attorneys
Tribal leaders
Tribal housing directors and board members
Housing industry partners

Reasons to Attend!

Hear from housing law experts
Nearly 50 training sessions
CLEs available for attorneys
Network with peers

Present at the Legal Symposium!

Follow the Call for Presentations Guidelines to submit a session proposal using the online form. NAIHC encourages submissions that cover current events, legal developments, and include tenant and employee policies and procedures such as jurisdiction, substance abuse and criminal activity, tax and employment law or contracts as well as recent Supreme Court decisions on ICWA and Navajo Nation water rights. The deadline for proposals is 5:00 p.m. ET on Wednesday, August 16, 2023.

Session Tracks:

Legal & Advocacy Updates
Gender Based Violence & Housing Services
Homelessness in Tribal Communities
Crime Prevention
Federal Updates & Resources
COVID19/CARES & ARP
Lending in Indian Country
Become an Exhibitor!
NAIHC invites organizations, federal agencies, tribal housing programs, and housing partners to share resources and network with nearly 500 attendees. Exhibitor spaces are 8′ x 10′ with back wall & side rail drape, standard booth sign, 6′ skirted table, 2 side chairs & 1 trash can.
Exhibitor – NAIHC Member: $600.00
Exhibitor – Non-member: $800.00
Vendor – Arts & Crafts:$200
Click the link to register: https://bit.ly/NAIHCLegalSympo23
Thank you to NAIHC's Annual Funders
Tribal Leadership and Management Conference
If in the Las Vegas area and are able to attend, or are planning to attend what better way to finish your stay and acquiring of knowledge than attending the local Snow Mountain Pow Wow by the Las Vegas Paiute Tribe.
PDF files: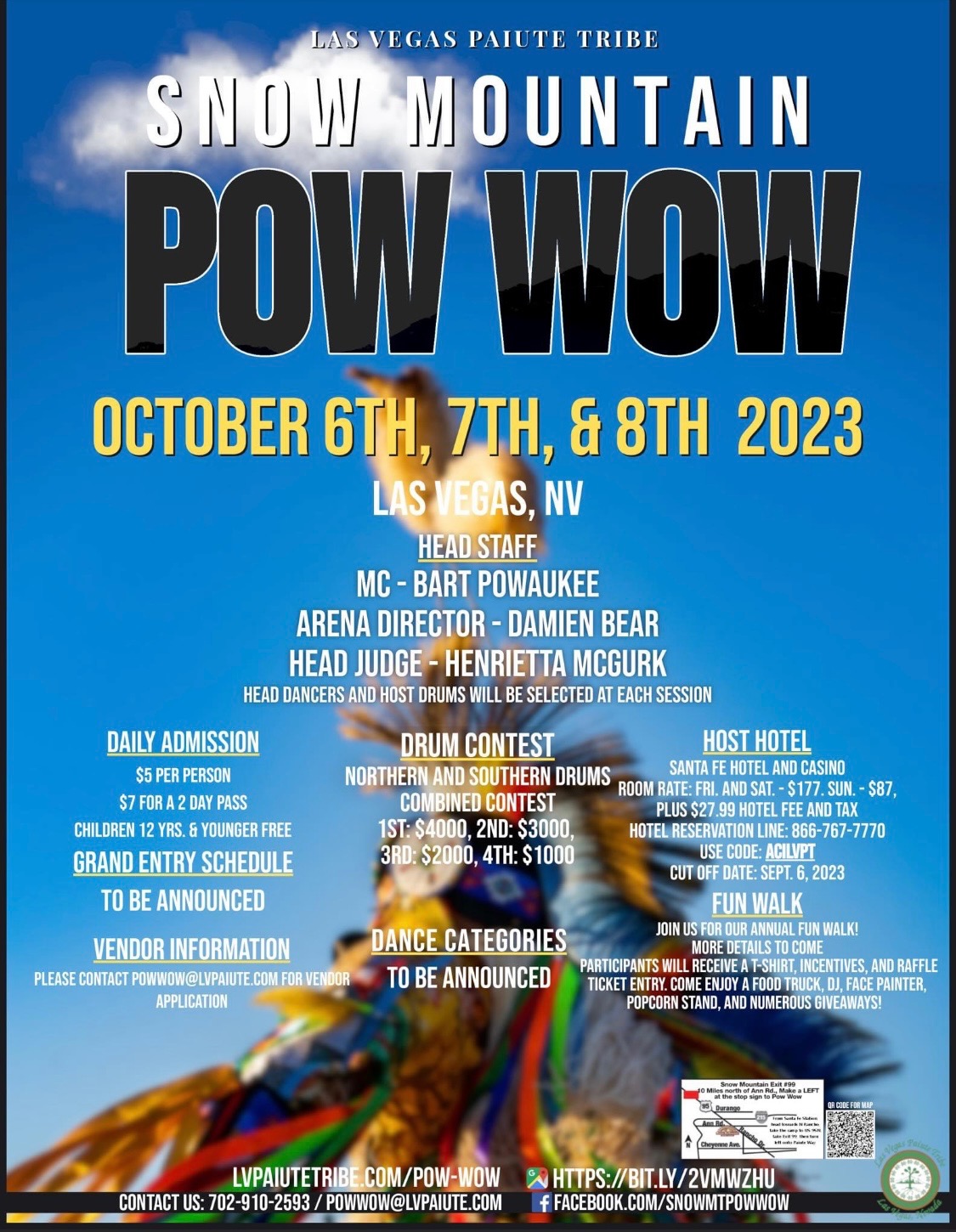 National Congress of American Indians upcoming event
Early Bird Registration is Open
Early bird registration is officially open for the National Congress of American Indians' 80th Annual Convention & Marketplace in New Orleans, Louisiana! Join us November 12-17 as we unite thought leaders, professionals, and advocates from across Indian Country to forge a brighter future for Tribal Nations. Register early and secure your spot! Early bird registration ends on October 13.
Agenda-at-a-Glance Now Available
Take a glimpse into the upcoming 80th Annual Convention & Marketplace by exploring the draft agenda-at-a-glance. This outline offers an early look at engaging sessions and exciting events taking place at the convention. Check back regularly for updates as speakers, sessions, and events are finalized.
Secure Special Hotel Rates
Joining us for the NCAI 80th Annual Convention & Marketplace? Plan ahead and secure special hotel group rates for attendees. Select from a range of local host hotels and rates conveniently located near the Ernest N. Morial Convention Center.
Request for Proposals: Breakout and Federal Government Sessions
NCAI is seeking presentation proposals to be included as breakout and federal government sessions at the 80th Annual Convention & Marketplace. Breakout sessions take place outside of the NCAI plenary sessions and may include federal government consultation and/or listening sessions; panel presentations on specific topics; roundtables to discuss current issues; trainings relevant to Indian Country; and/or workshops of interest to Tribal Nations and Native communities. The deadline for submissions is September 1.
Resolutions Portal is Open
NCAI's policy work and priorities are governed by consensus-based resolutions passed by the General Assembly at NCAI conventions. Any NCAI Indian Member in good standing is eligible to submit one or more resolutions. Resolutions must be submitted through the NCAI resolutions portal and, to be considered timely, must be received no later than October 23. Additional information about the resolution process is available on the NCAI resolutions page.
Proposed Constitutional Amendments
The NCAI Constitution is the primary governing document for the organization's operations. Although not required, the NCAI Constitution may be amended with a two-thirds majority vote of the General Assembly. Any potential amendments to the NCAI Constitution must be received no later than three months before the Annual Convention—meaning, no later than Monday, August 14, this year. Any proposed Constitutional amendments received by NCAI will be posted and made available to all NCAI members no later than September 14—two months prior to the Annual Convention.
THANK YOU,
THE CALIFORNIA VALLEY MIWOK TRIBE