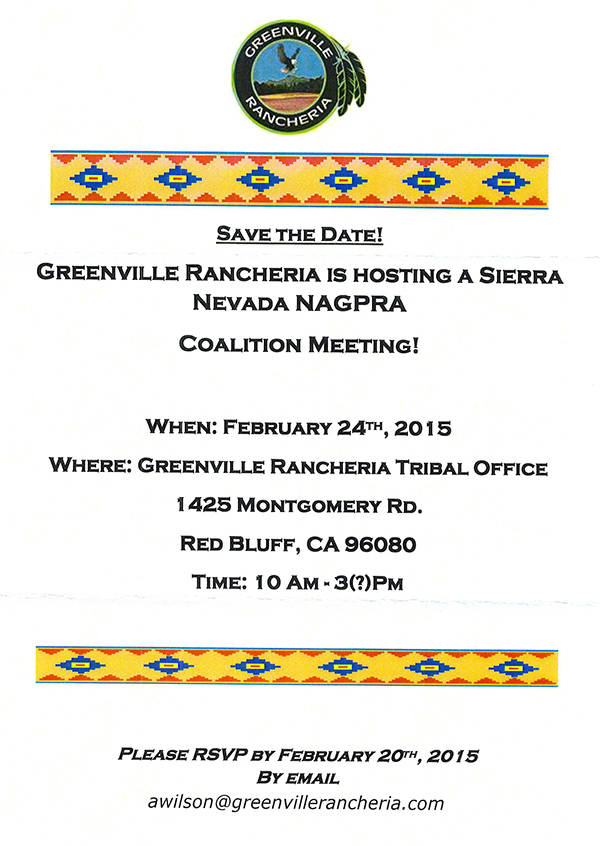 The California Valley Miwok Tribe (CVMT) has received a flyer from the Greenville Rancheria, informing the Tribe of the upcoming Sierra Nevada Native American Graves and Protection Repatriation Act (NAGPRA) Coalition Meeting, to be hosted by the Greenville Rancheria on February 24th, 2015.
What: Sierra Nevada NAGPRA Coalition Meeting
When: February, 24th, 2015 – In the Tribal Council room
Where: Greenville Rancheria Tribal Office, located at 1425 Montgomery Rd., Red Bluff, California 96080
Time: 10:00 AM – 3:00(?)PM
The focus of this meeting will be to give tribal representatives a chance to share their triumphs in repatriation, the dilemmas they have or are currently facing, and to share in goals for the future.
Please RSVP by February 20th, 2015 by sending an email to awilson@greenvillerancheria.com.
For more information contact Alisha Wilson, NAGPRA Coordinator, by phone at:
(530) 284-3535.