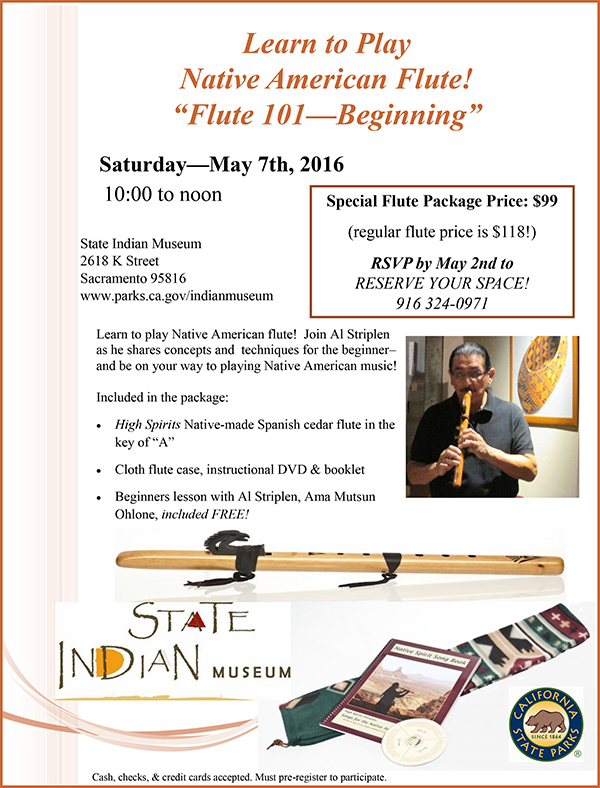 Learn to Play Native American Flute!
"Flute 101 – Beginning"
Program Description:
Learn to play Native American flute! Join Al Striplen as he shares concepts and techniques for the beginner – and be on your way to play Native American music!
Included in the package:
High Spirits Native-made Spanish cedar flute in the key of "A"
Cloth flute case, instructional DVD & booklet
Beginners lesson with Al Striplen, Ama Mutsun Ohlone, included FREE!
Special Flute Package Price: $99
(regular flute price is $118!)
RSVP by May 2nd to RESERVE YOUR SPACE!
EVENT DETAILS
What:
"Flute 101 – Beginning"
Native American Flute Beginner's Lesson with Al Striplen
Presented by the State Indian Museum
Where:
State Indian Museum
2618 K Street
Sacramento, CA 95816
When:
Saturday, May 7th, 2016 – 10 AM to Noon
For more information about the event and to pre-register, please contact the event coordinators by phone at 916-324-0971 or visit http://www.parks.ca.gov/indianmuseum