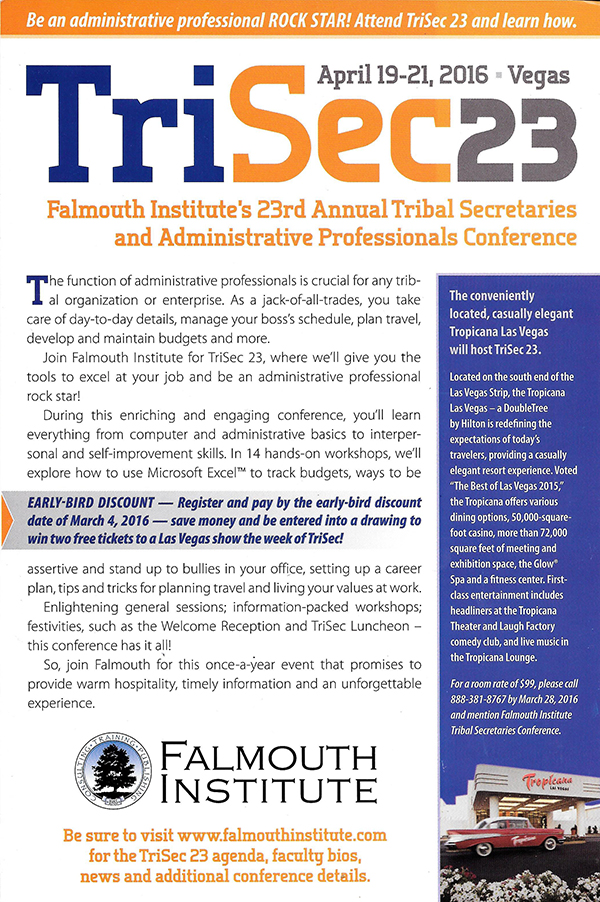 Program Description
"Be an administrative professional ROCK STAR! Attend TriSec 23 and learn how.
The function of administrative professionals is crucial for any tribal organization or enterprise. As a jack-of-all-trades, you take care of day-to-day details, manage your boss's schedule, plan travel, develop and maintain budgets and more.
Join Falmouth Institute for TriSec 23, where we'll give you the tools to excel at your job and be an administrative professional rock star! During this enriching and engaging conference, you'll learn everything from computer and administrative basics to interpersonal and self-improvement skills. In 14 hands-on workshops, we'll explore how to use Microsoft Excel ™ to track budgets, ways to be assertive and stand up to bullies in your office, setting up a career plan, tips and tricks for planning travel and living your values at work.
Enlightening general sessions; information-packed workshops; festivities, such as the Welcome Reception and TriSec Luncheon – this conference has it all!
So, join Falmouth for this once-a-year event that promises to provide warm hospitality, timely information and an unforgettable experience."
Workshops will include topics such as:
How to Get Organized with Outlook – UPDATED!
Using Excel to Reconcile Accounts and Track Budgets – UPDATED!
Assertiveness and Self-Esteem: Knowing your Boundaries and How to Defend Them – BACK BY POPULAR DEMAND!
Job Satisfaction: Confidence, Competence and YOU – NEW!
Beyond Hello: Advanced Phone Techniques for Professionals – NEW!
The Workplace Writer – UPDATED!
Sovereignty in the Tribal Workplace – UPDATED!
Policies and Procedures – NEW!
Choosing a Future – NEW!
Finding the Leader Within – NEW!
Tips and Tricks for Planning Travel – NEW!
Working with Boards, Commissions and Tribal Councils – NEW!
Workplace Wellness – BACK BY POPULAR DEMAND!
Living your Values at Work – NEW!
EVENT DETAILS
What:
TriSec 23
Falmouth Institute's 23rd Annual Tribal Secretaries and Administrative Professionals Conference
Where:
Tropicana Las Vegas, a DoubleTree by Hilton Hotel
3801 Las Vegas Boulevard South
Las Vegas, NV 89109
When:
April 19th to 21st, 2016
For registration information and event details, please visit http://www.falmouthinstitute.com/conferences/trisec/index.html