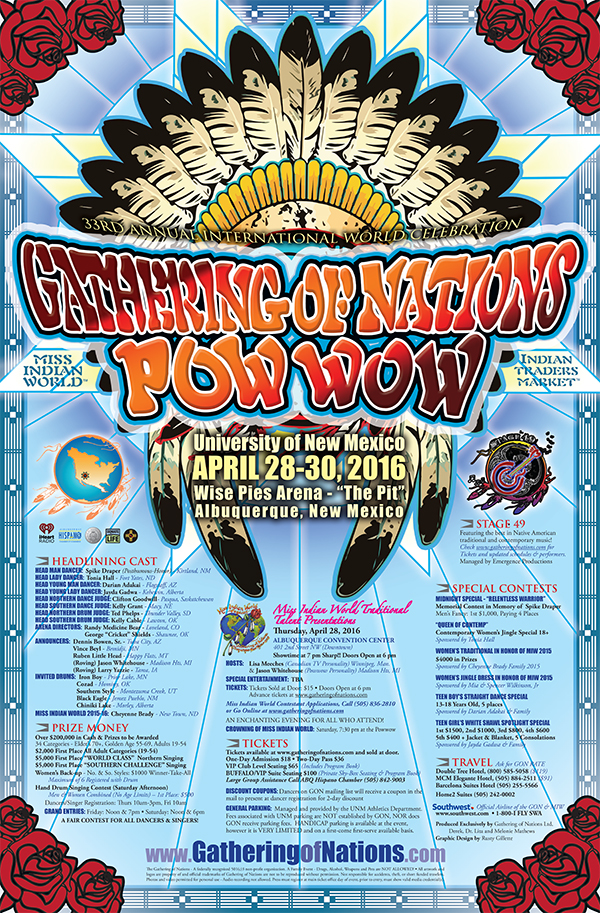 Program Description (from the GON official website):
"The Gathering of Nations (GON) is a 3 day event, that kicks off Thursday evening of April 28th, 2016 with the Miss Indian World Talent Presentations where young Native American Women represent their Native American and Indigenous people as a cultural goodwill ambassadors. The Miss Indian World Talent Presentations will be held in the Kiva Auditorium located at the Albuquerque Convention Center (Downtown Albuquerque). A Young Native American Woman will be crowned after Saturday Grand Entry on April 30th, 2016 the with the title of 2016-2017 Miss Indian World at UNM WisePies Arena aka "The Pit" in Albuquerque, New Mexico, USA.
The Gathering of Nations PowWow itself is a 2 day event (April 29th and 30th, 2016) held at UNM WisePies Arena aka "The Pit" in Albuquerque, NM, USA. The GON experience is for all people (Indian and Non-Indian) to come see colorful Native American PowWow dancing, to hear the songs and become enlightened with emotional happiness!
With over 3,000 indigenous/Native American/Indian dancers and Singers representing more than 500+ tribes from Canada and the United States come to the Gathering of Nations PowWow annually to participate socially and competitively. Included with the price of a Gathering of Nations Pow Wow Admission is the Indian Traders Market and Stage 49. The Indian Traders Market offers a very special shopping experience, which includes intercultural traditions and exhibition of Native American Arts and Crafts with over 800+ Artists, Crafters, and Traders that will display their wares and for sale.
Stage 49 provides Native American Music Performances and Entertainment! 2 days of Contemporary and Traditional Native American music and entertainment will be highlighted on Stage 49. Native musicians will perform in all Genres of music: Country, Pop, Reggae, World, Rhythm and Blues, Hip-Hop, Rock 'n' Roll, Rap, Traditional Native American Performance and much, much more.
There is a "Magic" about the Gathering! A Family and Friendly Event, Everyone (the public) is Invited!"
EVENT DETAILS
What:
33rd Annual Gathering of Nations PowWow
Where:
UNM WisePies Arena ("The Pit")
The University of New Mexico
111 University Blvd SE
Albuquerque, NM 8710
When:
April 28, 2016 – 9am to 7pm
April 29, 2016 – 9am to 12am (midnight)
April 30, 2016 – 9am to 6pm
For more information, including ticket prices and schedule of events, please visit the Gathering of Nations official website at https://www.gatheringofnations.com/