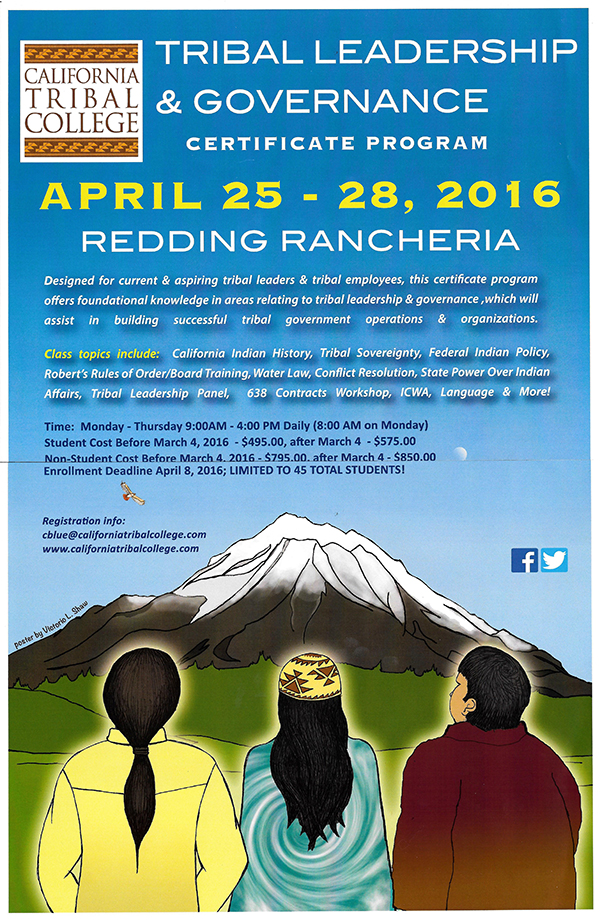 The California Tribal College will host a Certificate Program in Tribal Leadership & Governance in Redding, CA, from April 25 to 28, 2016.
Excerpt from program description:
"The California Tribal College's Certificate Program in Tribal Leadership & Governance provides vital information for any tribal citizen or tribal employee in any profession. Topics of discussion include: California Indian History, Tribal Leadership, Tribal Sovereignty and Sovereign Immunity, Federal Indian Law, Robert's Rules of Order, BIA funding, Conflict Resolution, Indian Child Welfare Act, Intergovernmental Relationships, and more.
All of our classes are tailored to provide an understanding of essential skills and foundational information necessary for effectively and efficiently managing, administering, and overseeing tribal operations. This program will discuss pertinent histories and laws that are critical for any tribal leader to understand when executing good decision-making.
This program is appropriate for current and developing tribal leaders in all realms of tribal leadership, government, operations, and/or organizations. Upon completion of this program, participants will have foundational knowledge in areas of tribal leadership and governance which will assist in building and enhancing successful tribal government operations and organizations.
This program is limited to the first 45 registrants."
EVENT DETAILS
What:
Certificate Program in Tribal Leadership & Governance
Hosted by the California Tribal College
Where:
Redding Rancheria
2000 Redding Rancheria Road
Redding, CA 96001
When:
April 25-28, 2016, 8am – 4pm
Fees:
Students: $575
Non-students: $850
ENROLLMENT DEADLINE: APRIL 8, 2016
For more information, please contact California Tribal College Project Manager, Crystal Blue, at 530-796-3400 or by email at cblue@californiatribalcollege.com.