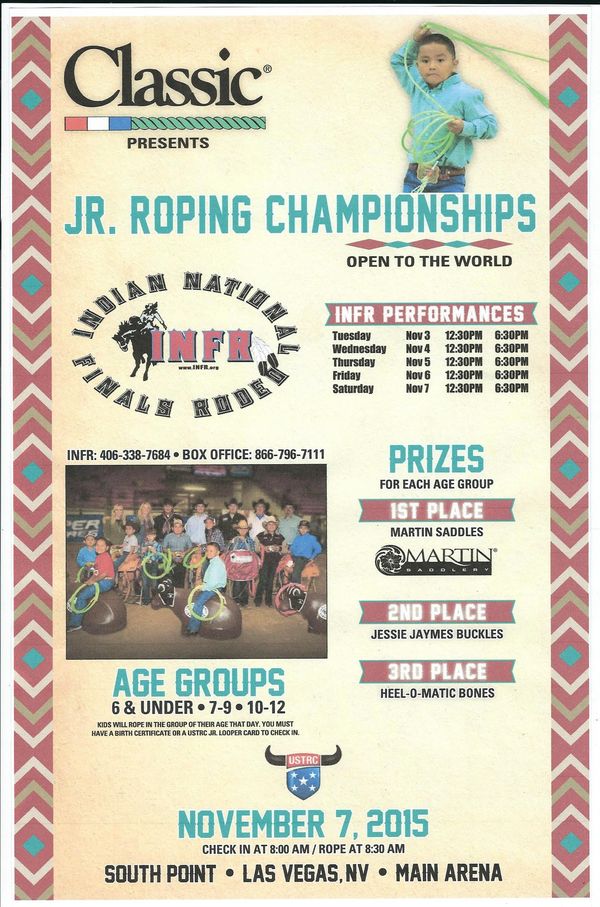 The California Valley Miwok Tribe received a flyer informing the Tribe that the Indian National Finals Rodeo Classic will be presenting the Jr. Roping Championships, to be held on November 7th, 2015.
Where: South Point, Las Vegas, Nevada – Main Arena
When: November 7, 2015 – Check in at 8:00 A.M. / Rope at 8:30 A.M.
Open To The World – Prizes for each age group
1st Place – Martin Saddles
2nd Place – Jessie Jaymes Buckles
3rd Place – Heel-O-Matic Bones
Age Groups – 6 & Under * 7 – 9 * 10 – 12.
Kids will rope in the group of their age that day. You must have a birth certificate or a USTRC Jr., Looper Card to check in.
For more information, call the Indian National Finals Rodeo at (406) 338-7684 or Box Office at (866) 796-7111.