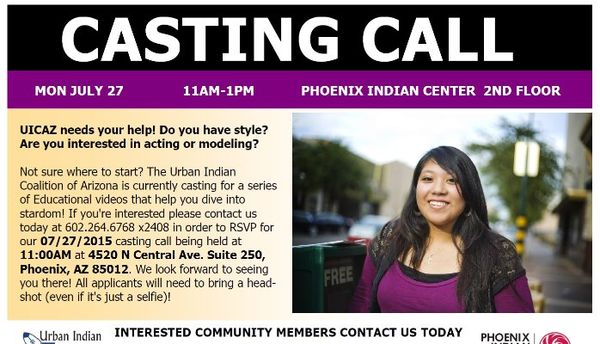 The California Valley Miwok Tribe received a flyer from the Urban Indian Coalition of Arizona (UICAZ), in regards to the upcoming casting call scheduled for Monday, July 27th, 2015, from 11am to 1pm, at the Phoenix Indian Center, located at: 4520 N. Central Ave., Suite 250 (2nd Floor) Phoenix, Arizona 85012.
UICAZ needs your help! Do you have style? Are you interested in acting or modeling? Not sure where to start?
The Urban Indian Coalition of Arizona is currently casting for a series of Educational videos that help you dive into stardom! If you're interested, please contact UICAZ at (602) 264-6768 x2408, in order to RSVP for the 07/27/2015 casting call..
All applicants will need to bring a headshot (even if it's just a selfie).