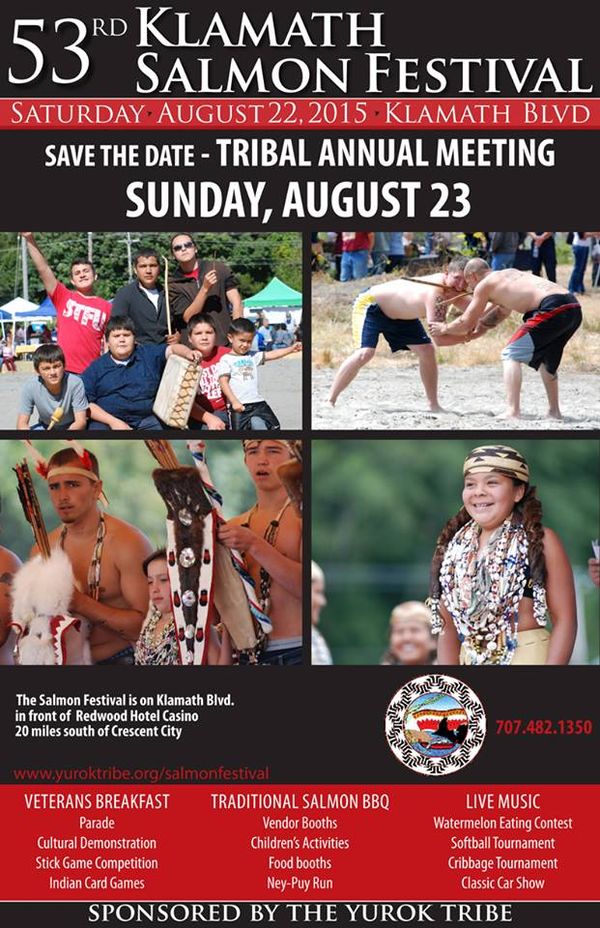 The California Valley Miwok Tribe (located at 4620 Shippee Ln, Stockton, California) received a flyer regarding the upcoming 53rd Klamath Salmon Festival, sponsored by the Yurok Tribe.
What:
53rd Klamath Salmon Festival
When:
Saturday, August 22, 2015
Where:
The Salmon Festival is on Klamath Blvd., in front of the Redwood Hotel Casino, 20 miles south of Crescent City, California.
Veterans Breakfast, Parade, Cultural Demonstration, Stick Game Competition, Indian Card Games, Traditional Salmon BBQ, Vendor Booths, Food Booths, Children's Activities, Ney-Puy Run, Live Music, Watermelon Eating Contest, Softball Tournament, Cribbage Tournament, and Classic Car Show.
For more information call (707) 482-1350 or visit https://www.yuroktribe.org/salmon-festival.