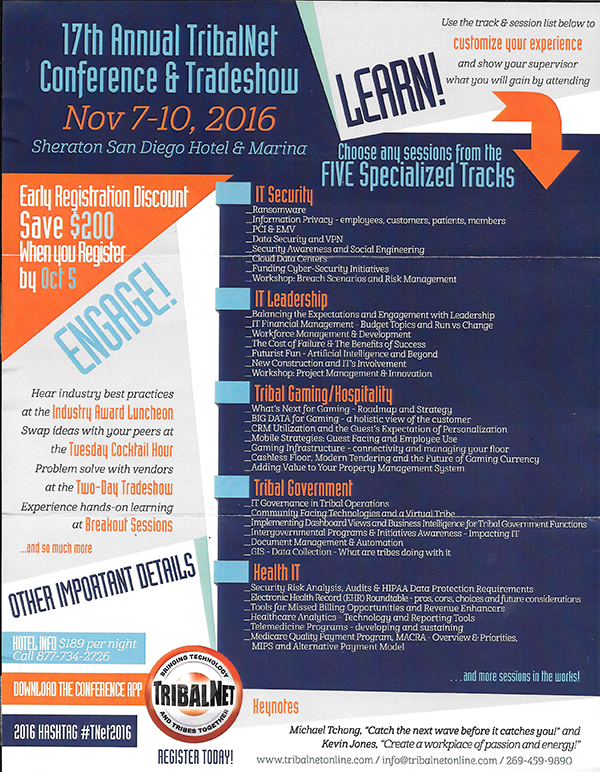 17th Annual TribalNet Conference & Tradeshow

Engage! Hear industry best practices at the Industry Award Luncheon. Swap ideas with your peers at the Tuesday Cocktail Hour. Problem solve with vendors at the Two-Day Tradeshow. Experience hands-on learning at Breakout Sessions …and so much more.
Choose any sessions from the five specialized tracks:
IT Security
Ransomware
Information Privacy – employees, customers, patients, members
PCI & EMV
Data Security and VPN
Security Awareness and Social Engineering
Cloud Data Centers
Funding Cyber-Security Initiatives
Workshop: Breach Scenarios and Risk Management
IT Leadership
Balancing the Expectations and Engagement with Leadership
IT Financial Management – Budget Topics and Run vs Change
Workforce Management & Development
The Cost of Failure & The Benefits of Success
Futurist Fun – Artificial Intelligence and Beyond
New Construction and IT's Involvement
Workshop: Project Management & Innovation
Tribal Gaming/Hospitality
What's Next for Gaming – Roadmap and Strategy
BIG DATA for Gaming – a holistic view of the customer
CRM Utilization and the Guest's Expectation of Personalization
Mobile Strategies: Guest Facing and Employee Use
Gaming Infrastructure – connectivity and managing your floor
Cashless Floor, Modern Tendering and the Future of Gaming Currency
Adding Value to Your Property Management System=
Tribal Government
IT Governance in Tribal Operations
Community Facing Technologies and a Virtual Tribe
Implementing Dashboard Views and Business Intelligence for Tribal Government Functions
Intergovernmental Programs & Initiatives Awareness – Impacting IT
Document Management & Automation
GIS – Data Collection – What are tribes doing with it
Health IT
Security Risk Analysis, Audits & HIPAA Data Protection Requirements
Electronic Health Record (EHR) Roundtable – pros, cons, choices and future considerations
Tools for Missed Billing Opportunities and Revenue Enhancers
Healthcare Analytics – Technology and Reporting Tools
Telemedicine Programs – developing and sustaining
Medicare Quality Payment Program, MACRA – Overview & Priorities, MIPS and Alternative Payment Modeland more sessions in the works!
EVENT DETAILS
What:
17th Annual TribalNet Conference & Tradeshow
Where:
Sheraton San Diego Hotel & Marina
1380 Harbor Island Dr
San Diego, CA 92101
When:
November 7-10, 2016
EARLY REGISTRATION DISCOUNT – Save $200 When you register by October 5th, 2016.
For more information, contact TribalNet by phone at 269-459-9890, by email at info@tribalnetonline.com or visit www.tribalnetonline.com.