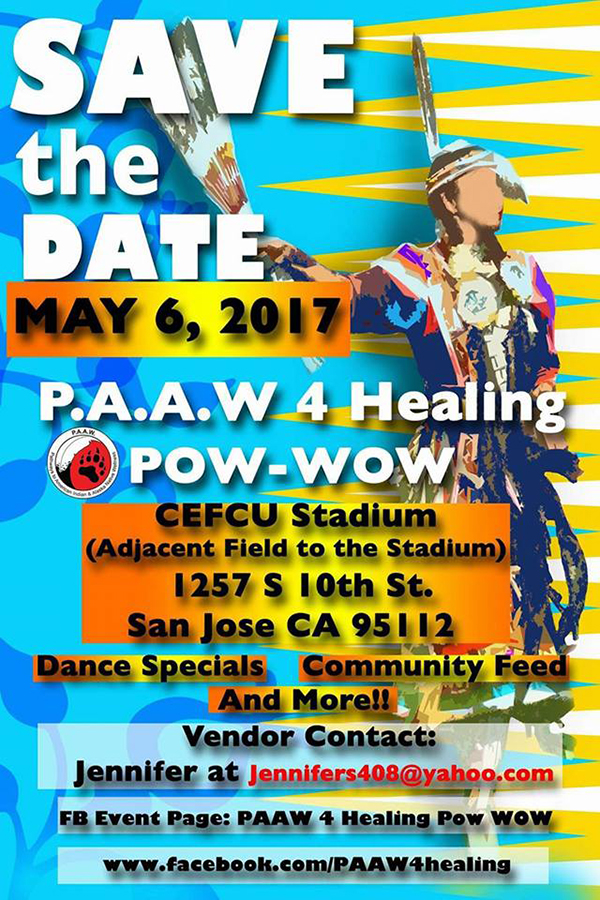 The Tribe was made aware of this event tonight, after receiving a phone call from good friend Wayne Water, who will be serving as Arena Director during the event. We are more than happy to spread the word about P.A.A.W. 4 Healing's 1st Annual Pow Wow!
EVENT DETAILS
What:
1st Annual P.A.A.W. 4 Healing Pow Wow
Where:
CEFCU Stadium (SJSU Spartan's Football Practice Field)
1257 S 10th St.
San Jose, CA 95112
When:
May 6, 2017, 10am to 8pm
Free Admission!
Community Feed 4:30pm
All drums and dancers welcome!
For more information about this event, please visit P.A.A.W. 4 Healing's Facebook page at https://www.facebook.com/PAAW4healing/
Vendors interested in this event may contact Jennifer at jennifers408@yahoo.com