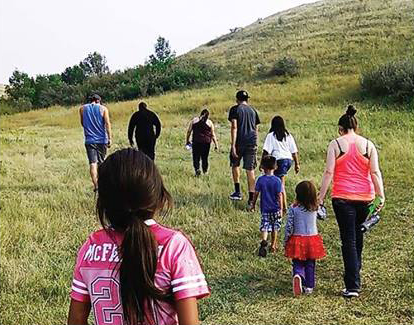 Program Description:
Medicinal Plant Walk – With Ethnobotanist, Linda Black Elk
"Join us for a day of learning and fun as educator and scientist Linda Black Elk identifies traditional medicinal and edible plants here on our reservation. You'll learn how to find,harvest and use these valuable gifts from the earth in your everyday life."
---
Linda Black Elk (Catawba Nation) is an ethnobotanist specializing in food and wellness sovereignty. She currently teaches at Sitting Bull College in Fort Yates, North Dakota.
---
EVENT DETAILS
What:
Medicinal Plant Walk
Where:
Thunder Valley CDC
Main Offices
290 Empowerment Drive
Porcupine, SD 57772
When:
May 17th, 2016, 10am to 3pm
FREE & OPEN TO EVERYONE!
For more information, contact Nick Hernandez at 605.455.2700 or nhernandez@thundervalley.org